Today at Galaxy Unpacked, Samsung unveiled the new Galaxy S22 series and Galaxy Tab S8 series and updates coming soon to the Galaxy Watch4 series. Together with Samsung, we're introducing new features that help you communicate in new ways, get more done and stay entertained with your Galaxy devices.
More ways to connect with live sharing on Google Duo
Video calling with Duo can help you connect with friends and family, no matter how far away. With live sharing support across your favorite apps, you will be able to use Duo on your Galaxy S22 series and Galaxy Tab S8 series to brainstorm ideas with your friends and colleagues through Jamboard, share ideas and images in Samsung Notes and Gallery, watch videos together on YouTube or search for locations on Google Maps.
Preview YouTube videos on Messages by Google
People share YouTube videos on Messages all the time — in fact, they're one of the most-shared types of links on the app overall. In the coming weeks, you'll be able to see a preview of the video your friends and family share with you right in the conversation, so you can quickly decide whether to watch it now or later. And you can tap again to play the video as well, without ever leaving the chat.
Optimized for accessibility with Voice Access
Voice Access on Android is designed to help people with disabilities navigate and control their device without needing to use their hands. While it's optimized for people with motor disabilities like ALS, spinal cord injuries or arthritis, it can also be helpful for anyone with a temporary disability like a broken arm, or people whose hands are otherwise occupied. Built into the Galaxy S22 series and Galaxy Tab S8 series, you don't need to download a separate app, and you can use Voice Access prompts to quickly and easily tap, scroll and navigate your device. Tap, scroll, and browse your device with voice commands. Either set Voice Access to start whenever you use your device, or say, "Hey Google, Voice Access" and the accessibility prompts will help you open apps and manage your device.
Color your world with Material You
Coming with Android 12 out of the box, the Galaxy S22 series and Galaxy Tab S8 series will let you personalize your device by taking advantage of the beautiful Material You design. Change your wallpaper and the look and feel of your entire device, including your notifications, apps and more, will change to match the color palette.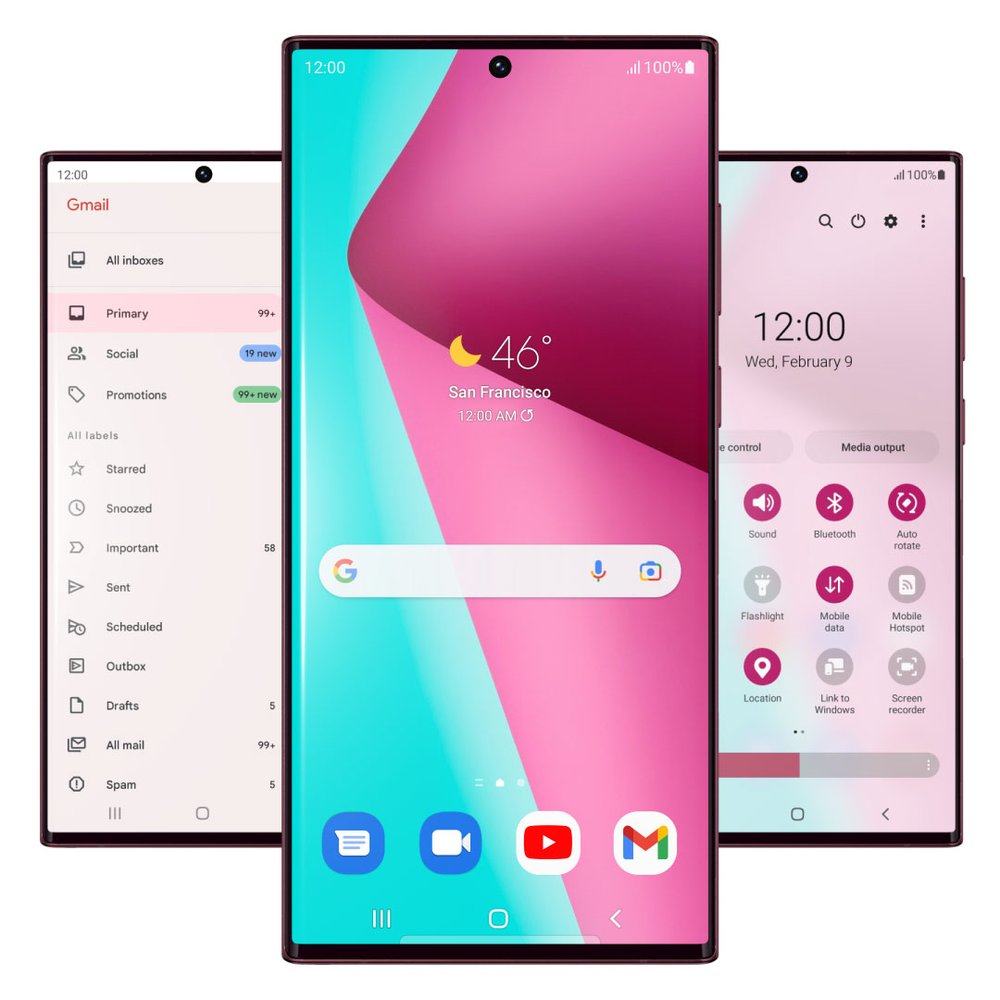 Easily set up Google Play apps on your Galaxy Watch4
Setting up a new Galaxy Watch4 has never been easier. Next month, we'll be improving the setup process so your apps on your Android phone appear as recommended apps on your watch. With a simple tap on your phone, you can install all of your favorite apps from Google Play.